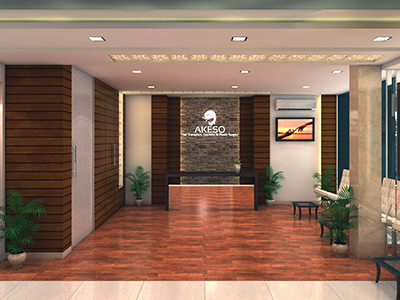 | CLINIC | | PREET VIHAR, DELHI |
| --- | --- | --- |
| TYPOLOGY | | Office Interior |
| STATUS | | Completed |
| COMPLETION YEAR | | 2014 |
| CLIENT | | AKESO CLICNIC |
| BUILT-UP AREA | | 3000 sq.ft. |
THE PROJECT
Akeso Clinic is a luxury hair transplant clinic in New Delhi. We were given the task to design the interiors while accommodating the luxury features of the clinic.
Challenges
Since, the office had entry at the middle so we had to plan accordingly.
Design Thought Process:
The planning of the clinic was such that the reception and the consultation areas were situated at the rear side of the site for natural light therefore, creating a long corridor from the main entry to the waiting area. Rich oak wood textured veneer and lacquered glass were used in the corridor. Lacquered glass helps convey a bright and creative appearance for the walls. Enhanced by the glass, the color brightens up interiors and animates surroundings with reflections , brilliance as well as hygiene. The clinic has 2 OT with all facilities, consultation rooms, prep area, staff room, break room and also a break room. We have also taken into consideration the temperature, humidity level and air circulation so that the functionality of the clinic is not compromised.