CAFE @ KASHMIRI GATE , DELHI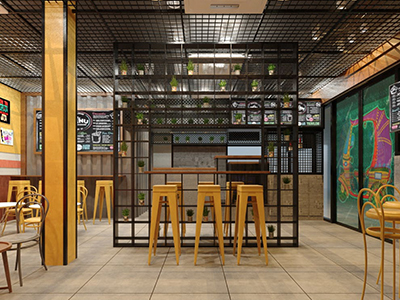 | CAFE | | KASHMIRI GATE , DELHI |
| --- | --- | --- |
| TYPOLOGY | | Interior |
| STATUS | | Completed |
| COMPLETION YEAR | | 2018 |
| CLIENT | | |
| BUILT-UP AREA | | 600 sq.ft. |
WHAT IS THE PROJECT?
The project was an cafe interior project.
Design Thought Process:
We wanted to give the interior of the cafe a rustic and contemporary atmosphere. Yellow-coloured furniture and light grey tile floors help enliven the formerly gloomy interior of cafe. Yellow and black color interior look super stylish and contemporary. Retro and mid-century modern decor looks very cozy. Lots of nature elements, including plants in pots and flowers were added to provide ornamentation to the cafe
A statement ceiling can add dimension and personalization to a space. We have used a suspended open grid ceiling. It visually expand the space and also provides unrestricted access for utility lines maintenance.